More About the Owner, Jose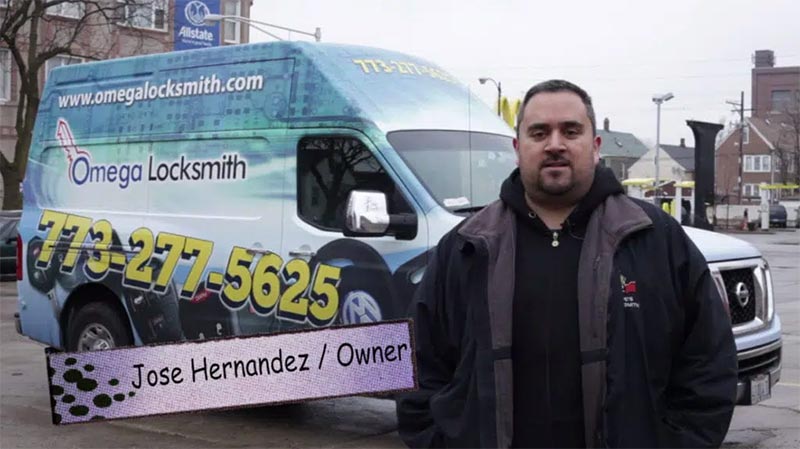 My name is Jose Mario Hernandez, Jr. and I have been in the locksmith business in Chicago, Illinois for over twenty years. I have surmounted many hurdles and have to thank some smart decisions I took in my locksmith & locksmith marketing efforts.
I am a certified locksmith in the State of Illinois and the Chief Executive Officer of Omega Locksmith which I founded in 1994. A second-generation locksmith following in the footsteps of my father and proud to have over 20 years of experience serving the residents of Chicago. My early schooling was at J. Sterling Morton East High School in Chicago followed by a degree in Morton College, Cicero, IL. I am also an ardent Chicago Cubs fan, a loving husband and a doting father of two wonderful kids.
Locksmith Career Highlights
I've successfully managed and operated my own locksmith business in Chicago for over two decades.
I'm a licensed professional locksmith who travels to commercial businesses and residences in Chicago for service calls.
I've introduced new commercial services to my clients like door installation, panic bar installation, commercial access control, etc.
I sell commercial and residential locks and keys in our store on 4346 W 51st St., Chicago 60632.
I provide excellent customer service in person at my store, virtually via my Google My Business Chat, and on the phone.
I've installed, repaired, rebuilt, and serviced traditional mechanical and high-security electronic locking devices, using hand tools and special equipment.
I can disassemble locks, such as padlocks and door locks, and repair and replace worn tumblers, springs, and other parts.
I frequently change the combination on safe locks by inserting new or repaired tumblers into locks.
I'm highly skilled at using lockpick tools to open door locks without keys.
I cut new or duplicate keys and program fobs, remotes, and transponder head keys using our advanced and sophisticated key cutting machines.
I'm very active in Locksmith marketing circles and also have a keen interest in Search Engine Optimization (SEO).
About My Locksmith Marketing Business
I also run a locksmith marketing agency called Omega Locksmith Marketing. My goal is to help fellow locksmith businesses thrive (check out this blog post on Is locksmith still a great career choice?) with calls directly to your place of work. While there are some similar services out there, Omega Locksmith Marketing is the only company that caters specifically to locksmiths all around the country. As a practicing locksmith, I understand the precise needs of clients.
Today, marketing can be a major frustration and very time-consuming. Nonetheless, it is something all successful locksmiths must do! As someone who is a member of the ALOA and knows the locksmith market like the back of their hand, I can help you get the live phone calls you deserve with the right marketing automation and SEO deals.
I am also active on Locksmith Facebook groups and Clear star, so I am able to generate leads through numerous channels including Facebook but Google My Business remains one of my favorites.
I rank on top for so many keywords in my area. Hey, I don't offer this service to folks in Chicago, but any other city in the US is welcome! This service can directly flood relevant locksmith-oriented calls to your locksmith business.
Talk to me about Omega Locksmith Marketing, a marketing service with exclusive deals for locksmiths!
24×7 Service
As a businessman, you'll undoubtedly want to keep your employees busy throughout the entire workday. People get locked out of their vehicles and homes or need locks changed at all hours of the day and night. My locksmith and marketing business runs 24 hours a day and 7 days a week! We'll take the guesswork out of it, so you'll only need to call us on the phone and schedule the appointment. The Omega Locksmith van is surely on its way!