We hear and read so many stories about Chicago shops, warehouses, or kiosks being broken in and burgled. Small business owners are also aware that experienced commercial locksmith companies provide security equipment and can implement robust business security to make their commercial properties, shop floor, business assets, business investments, and employees safe and secure. Yet these incidents occurred, so what went wrong?
Lax security measures or not outfitted with the latest commercial security system – Some companies continue to use outdated business security systems. They should consider an upgrade to their security measures. Commercial locksmith companies these days can offer security alarm systems and CCTVs equipped with the latest technologies yet affordable in pricing.
Poor master key management & keys available to everybody in the office –  Business owners may have allowed easy access to tenants and all employees alike. You need to rekey your door locks or get brand-new commercial door locks as the first line of defense during times of transition.
Going cheap on services & office security equipment –  Some businesses may have ordered the lowest priced service or commercial door hardware available in the market. Getting the lowest bidder to work on your building project may not have hurt your checking account immediately but will have caused a bigger dent in your bank balance later on!
Not hiring a dependable commercial locksmith – Not hiring a certified and insured commercial locksmith means that you may get a subcontracted or novice locksmith, who may not be licensed or not trained in all aspects of business locksmithing.
Why Do You Need A Robust Business Security System?
Employee safety and protection of data, inventory, and equipment must be the top priorities for any business owner who runs a commercial business.
While your business area or neighborhood in a city like Chicago may be free from crime, you cannot relax assuming that everything will be ok. You need to invest in business security technology. business security cameras and corporate security.
Smart companies update their locks and review their business security protection systems periodically to ensure facility access to only company employees.
With there is employee turnover or criminal activity, you need to review your security breach policies, passcodes, information security, and security checks.
You can set up master key systems to enhance the functionality as well as the safety and security of your business premises. A passkey system is another great and effective way to implement a secure and safe workplace.
You could get your critical mail being stolen if your mailbox locks are not in good working condition. You can install complex high-security locks on all your filing cabinet systems and mailboxes for an extra layer of business information protection.
To prevent data breaches, you need to implement cybersecurity measures and invest in data monitoring software and tools.
The chances of burglary or theft are reduced if you outfit your company with the latest locksmith products from reliable manufacturers like Kwikset, Schlage, or Weslock.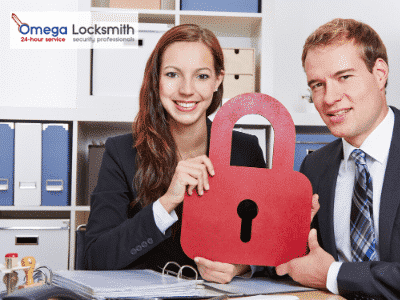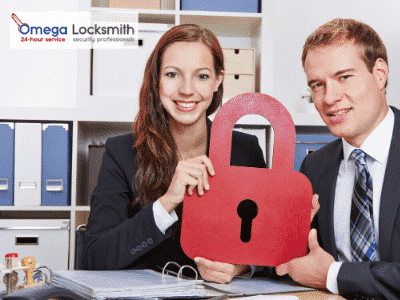 How Do You Protect Your Business Against Criminal Negligence And Damage?
Our company and personal affairs in today's world overlap with each other, especially during tough times. So, whatever affects the business has a direct bearing on the business owner's lifestyle, finance, and family life.
Safeguarding your commercial property is therefore as equally important as protecting your residence. Here are some services offered by commercial locksmiths that you should consider:
Door Installation and repair – Take care of damaged commercial doors or install new industrial doors and panic bars for office property, warehouses, and factories.
Access Control and Security –  Access control systems, burglar alarms, and security solutions with the latest computer systems and security software.
Master key system – For offices and commercial buildings.
Video surveillance system and business security cameras –  Replace old locks with a top-quality locking system, surveillance cameras, motion detectors, and smart door locks.
Safe Locksmith – Shops & establishments need high-security cash registers and fire safes to protect against employee theft and fire hazards.
Emergency Lockout – Get office keys or missing drawer keys replaced or duplicated, mailbox locks opened, or an emergency lockout service.
Omega Locksmith Chicago is a local locksmith company operating in Chicago since 1994. Our expert locksmith team headed by Jose Mario Hernandez Jr. also takes care of emergency commercial locksmith tasks, sophisticated locking systems lock installations for most types and brands of door locks.