Smart Key Replacement
Losing the keys to your Toyota Prius is a very vexing problem. You have no idea who has got your keys and will be worried sick about your car getting stolen. If it is beyond recovery, you're probably scouring the internet for a Toyota replacement key and replacement car keys. Upon calling local dealers and asking about the Toyota Prius smart key replacement cost, you might be shocked that they ask for hundreds of dollars just for one Toyota replacement key. The process to replace Prius key consumes time and money as dealers ask to get your car towed over to work on your Prius key replacement. That surely cost you more on top of the fees and taxes for the Toyota replacement key.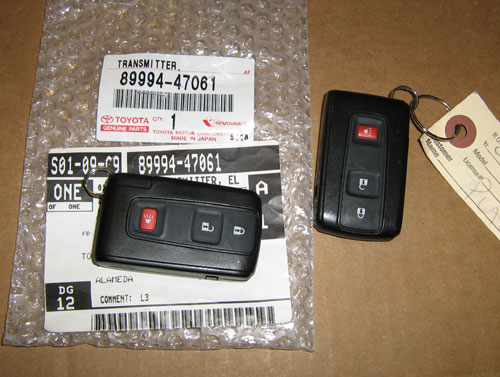 Prius Key Replacement – 4 Factors
If your car's make and model is from the early nineties, chances are the Prius replacement key your local automotive locksmith will cut for you wouldn't cost much. The process of smart key replacement is slightly more complicated and only specialized and certified_trial locksmiths have the training and expertise to reprogram your car's computer to correspond with your new Toyota replacement key. With a Chicago locksmith, the cost is roughly one-fourth of the dealer's cost. So, what are the things you should consider when it comes to Prius key replacement?
Type of key.

Older models of Toyota Prius cars have standard keys with no transponders embedded in them, so you can have your key cut and you're good to go. Smart keys came with cars manufactured from mid-nineties. If you are unsure which one your key is, tell your local dealer or automotive locksmith about your car's make and model and they will clarify.

Proof of ownership.

You would need your car's registration or insurance and your VIN to establish proof of ownership as dealers and locksmiths will be asking for it before they replace Prius key and work on your car.

Price.

Dealers will often overcharge you as most desperate Toyota Prius owners will pay whatever price they're quoted as they are unaware of the more practical options out there. If you're willing to spend between $250 to $500 as your lost Toyota Prius smart key replacement cost, then it's the dealers for you. If you want to spend considerably less than that for the same quality set of keys, then a Chicago locksmith's services may be what you're looking for.

Convenience.

Having your car towed to the dealer and paying for it isn't exactly convenient, especially if you have to make time just to bring it to the dealership and to wait for an hour before you get your new Toyota replacement key. However, most locksmiths will be happy to do house calls and bring their equipment over to cut your keys and program your car's computer to match your new set, and it wouldn't even take long.
Aside from Prius key replacement, Omega Locksmith also offer automotive locksmith services for ignition-related issues for foreign and domestic cars.
Chrysler Chip Keys

Dodge Chip Keys

Jeep Chip Keys

Ford Chip Keys
Nissan Chip Keys

Honda Chip Keys

Toyota Chip Keys

Lexus Chip Keys
Auto Lockouts

Car Ignition Repair

Door Lock Repair

Keys cut by VIN#