Welcome to Omega Locksmith, Chicago's premier locksmith service provider. If you're in Chicago and need a professional, reliable, and efficient locksmith service, you've come to the right place!
Locksmith Offers in Chicago
Our company values our clients and aims to provide top-notch locksmith services in Chicago with exciting offers.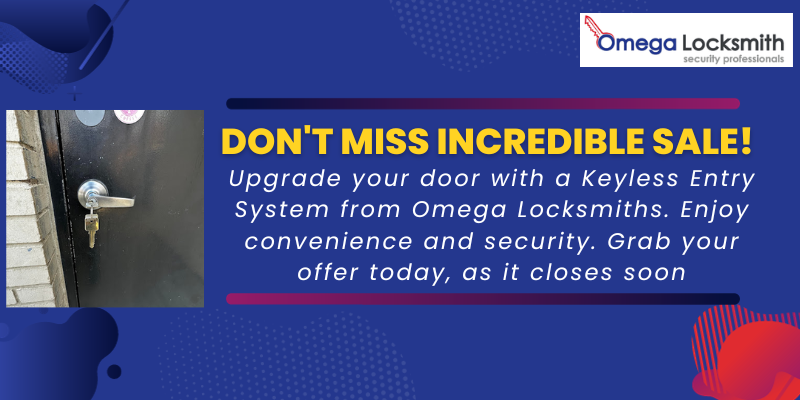 1. New Customer Special Expansion:
Welcome to the Omega Locksmith family! If this is your inaugural visit, we are thrilled to have you join our community. To show our gratitude for choosing our services, we're pleased to offer you an exclusive introductory discount. This special promotion is designed to provide you with a substantial reduction in price on our full range of locksmith services. From duplicating keys to installing new lock systems, our experienced technicians ensure top-notch quality and reliability. Enjoy peace of mind knowing you're receiving premium service at an exceptional value, all while being welcomed into the Omega Locksmith fold.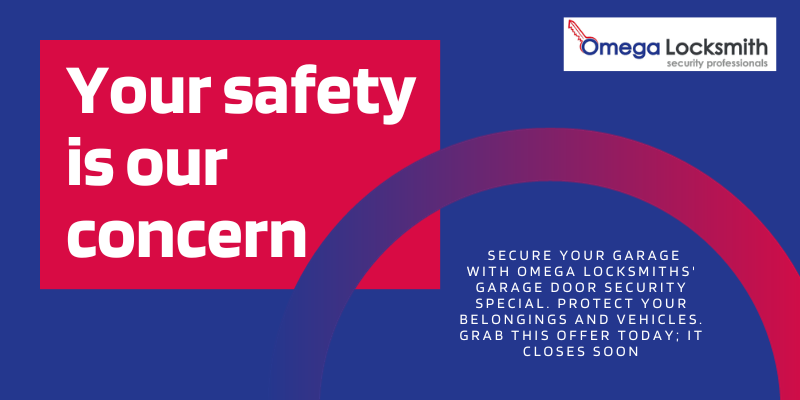 2. Residential Lock Upgrade Expansion:
Your home is your sanctuary, and its security is paramount. With this in mind, we present our Residential Lock Upgrade service, featuring the latest advancements in lock technology from Mul T Lock. This special offer invites homeowners to not only modernize their home security but also to take advantage of a preferential deal on our premium lock installations. Our skilled locksmiths are at your service to provide a seamless upgrade experience, ensuring that your home benefits from enhanced protection against intrusions. Embrace the fusion of innovation and safety with our unique offer, and sleep soundly knowing your residence is fortified.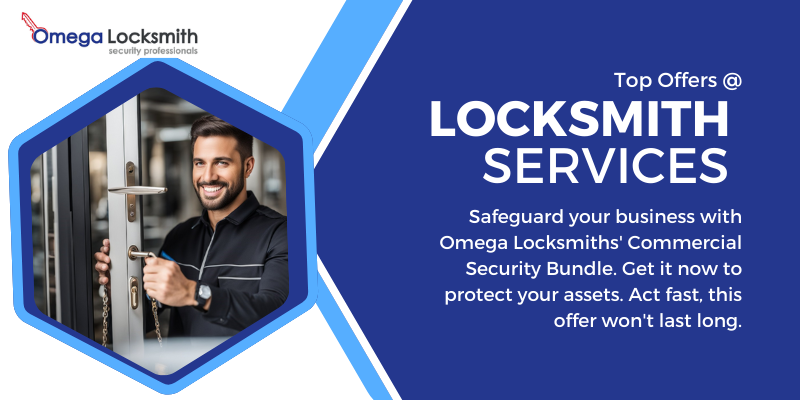 3. Commercial Security Bundle Expansion:
Attention all business proprietors and office managers: it's time to take your establishment's security to the next level. Our Commercial Security Bundle is a comprehensive solution tailored specifically to meet the unique needs of your business. We understand that every organization requires a different approach to security, which is why our experts will work closely with you to create a bespoke package. Whether it's upgrading locks, installing advanced access control systems, or integrating surveillance technology, our team is equipped to enhance your commercial security infrastructure. Invest in our customized security package and protect your business assets, employees, and premises with precision and expertise.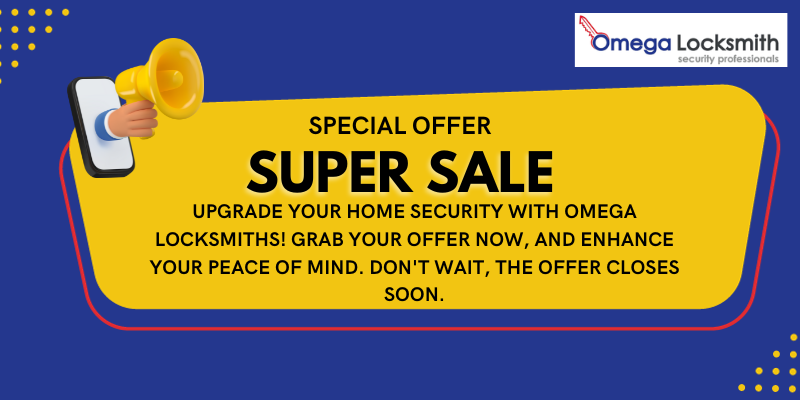 4. Emergency Services Offer Expansion:
When an emergency strikes, time is of the essence and stress levels are high. Omega Locksmith is here to offer you reassurance and support when you need it most with our Emergency Services Offer. We provide a dedicated fast-response call-out service for those urgent situations where immediate assistance is required. Whether you're locked out of your home, office, or car, our expert technicians will be dispatched promptly to resolve your issue. As part of this exclusive offer, we present these emergency services at a special reduced rate, ensuring that you have access to affordable help without compromising on service quality. Trust us to be there for you, providing rapid and reliable solutions in your time of need.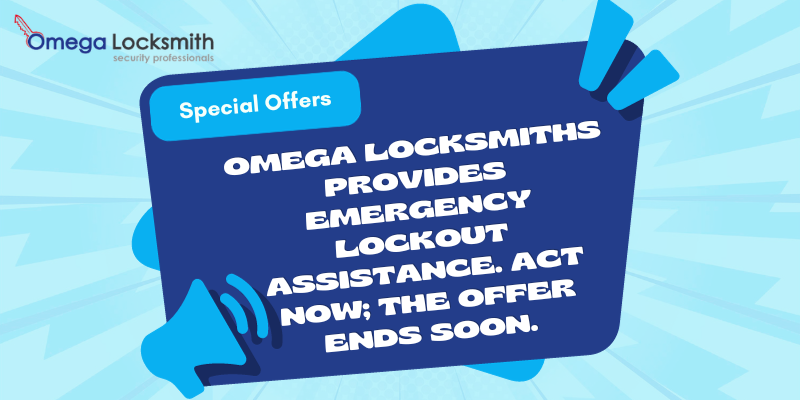 5. In-Store Key Cutting Deal Expansion:
Need a new set of keys made without delay? Visit our conveniently located store at 4346 W. 51st St., Chicago, IL 60632, and take advantage of our In-Store Key Cutting Deal. Our skilled locksmiths provide precision key-cutting services on the spot, ensuring that you walk away with perfectly crafted keys every time. While you wait, enjoy the cozy atmosphere of our store and the exceptional customer service that Omega Locksmith is known for. As part of this special promotion, we are offering all customers who come to our store a unique discount. Whether it's for your home, business, or vehicle, our keys are guaranteed to be cut with the utmost accuracy and at a price that's as satisfying as the service.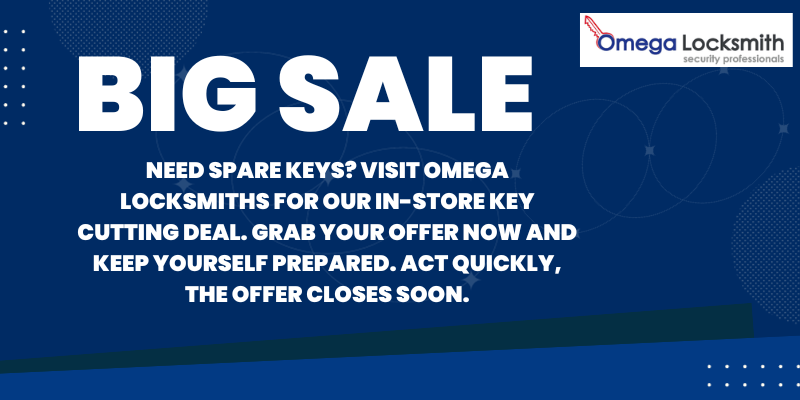 6. Referral Rewards Expansion:
If you've been delighted by the Omega Locksmith experience, why not share that satisfaction with others? Our Referral Rewards program is our way of saying thank you for spreading the word about our services. Simply refer a friend or family member to us, and we will reward both you and the person you referred with a valuable discount on your next locksmith service. This is our way of acknowledging the trust and loyalty you show in our brand. Whether they require emergency assistance, a security upgrade, or any of our other locksmith services, you and your friend will enjoy a reduction in cost as a token of our gratitude. Share the love, recommend Omega Locksmith, and unlock savings for everyone involved.
Trusted Experience: Founded in 2006, Omega Locksmith is a name synonymous with reliability and expert service in Chicago.

Versatile Services: Catering to both residential and commercial clientele, we're equipped to address all your lock and key challenges.

Accessible Locksmith Store: Our store at 4346 W. 51st St., Chicago, IL 60632 is your go-to destination for immediate services or consultations.

Expert Leadership: Under the adept leadership of Jose Mario Hernandez Jr., our team consistently delivers unparalleled locksmith solutions.

Modern Solutions: We are adept at installing modern locking systems like Mul T Lock, ensuring your security is always a step ahead.
Are you thinking of leveraging one of our offers? Connect with us if you need more information.
Phone: +1 773-277-5625
Location: 4346 W. 51st St., Chicago, IL 60632