Lakeview, Chicago
jose@omegalocksmith.com
Omega Locksmith was founded in 2006 and has since become one of the leading Local Locksmith Companies in Chicago and its neighborhoods. We are a family-owned and full-service locksmith company with a physical locksmith store located at 4346 W. 51st St., Chicago, Illinois 60632.
Omega Locksmith is a certified Lock Company with Locksmith License #191-000821, granted by the State of Illinois. Headed by Jose Mario Hernandez Jr., our skilled locksmiths have helped hundreds of Chicagoans with prompt and affordable lock repair services. We are a 24-hour locksmith, so don't hesitate to contact us at (773) 277 5625 any time, day or night. Our courteous and fast emergency locksmith services team is trained in the latest tools and equipment for locks and keys.
We are a leading emergency locksmith company in Chicago that reduces the stress of being locked out of your home, office, or car. As a mobile locksmith, we can reach you anywhere in Chicago in 30 minutes or less, and we are definitely close to Lakeview, Chicago. The Omega Locksmith mobile locksmith van is just a quick drive to Lakeview, Chicago and our locksmith service areas also cover nearby areas in Cook County and DuPage County.
Omega Locksmith offers services in Lake View, Illinois. Lake View, also called Lakeview, is one of the 77 community areas of Chicago in Cook County, Illinois, located on the city's North Side. It is bordered by West Diversey Parkway on the south, West Irving Park Road on the north, North Ravenswood Avenue on the west, and the shore of Lake Michigan on the east. The Uptown community area is to Lake View's north, Lincoln Square to its northwest, North Center to its west and Lincoln Park to its south. The 2016 population of Lake View was around 100,000 residents, making it the largest of the Chicago community areas by population.
Lake View IL includes smaller neighborhood enclaves: Sheridan Station Corridor, Northalsted, Southport Corridor, Wrigleyville, and Wrigley Plaza. Boystown, famous for its large LGBT population, holds the pride parade each June. Wrigleyville is another popular district. It surrounds Wrigley Field, home of the Chicago Cubs. Lake View is home to the Belmont Theater District showcasing over 30 theaters and live performance venues located near the Belmont El station.In 2013, Money Magazine named Lake View as number 3 of its top 10 Big-city neighborhoods for its selection of Best Places to Live.
Lake View was used as a camp and trail path for the Miami, Ottawa, and Winnebago Native American tribes. In 1837, Conrad Sulzer of Winterthur, Zürich, Switzerland, became the first known white settler to live in the area. In 1853, one of the first permanent structures was built by James Rees and Elisha Hundley on the corner where present-day West Byron Street (or West Sheridan Road) meets North Lake Shore Drive and was called the Hotel Lakeview, named for the hotel's unobstructed view of the shore of Lake Michigan. It gained what was characterized as a resort atmosphere.
Lake View East is considered the Greater Lake View area. Lake View East expanded its boundaries in 2017 to include the Central Lake View area which is home to Wrigley Field. Lake View East boundaries are defined as: Lake Shore Drive on the East, Racine on the West, Diversey Parkway on the South and Irving Park on the north. Omega Locksmith is the locksmith serving Lake View, Illinois you can count on.
Wikipedia Page: https://en.wikipedia.org/wiki/Lake_View,_Chicago
Neighborhood guide: https://www.wirtzresidential.com/lakeview-neighborhood-guide/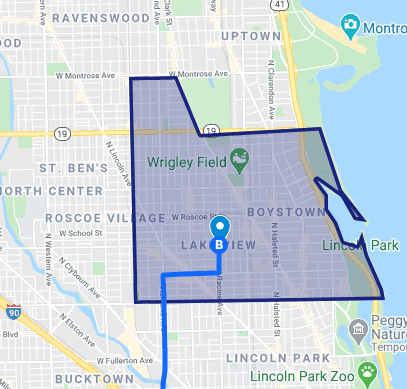 Frequently Asked Questions
Are you a licensed locksmith serving Lakeview, Chicago?
Yes. Of course! We are fully licensed to serve Lakeview, Chicago in the State of Illinois and our Locksmith License Number is #191-000821.
What locksmith services do you offer in Lakeview, Chicago?
We offer commercial, residential, and automotive locksmith services in Chicago, Illinois, and surrounding areas like Lakeview, Chicago.
How can a locksmith company help with my security system in Lakeview, Chicago?
A locksmith company such as Omega Locksmith can help with security systems in Lakeview, Chicago in the following ways:
– Install a security system for you
– Perform maintenance for your security system
– Repair your security system
– Replace your existing security system with a new one
Can locksmiths offer recommendations for my security system in Lakeview, Chicago?
Yes. You can call a locksmith like Omega Locksmith for security recommendation services if you have doubts with the security system at your business or home in Lakeview, Chicago. Most locksmiths are experts when it comes to building security and are great at recommending the security systems that best suit your needs. They can also install surveillance cameras, access control systems, and alarms to protect your home/business from the threat of intruders and thieves.
Can you improve the safety of my office in Lakeview, Chicago?
Certainly. Omega Locksmith offers a wide range of services related to installing security systems in Lakeview, Chicago to improve your safety. We have experts who can help with installing access control systems, high-security locks, commercial doors, etc.
Commercial Locksmith Services in Lakeview, Chicago
Do you operate a business or need to hire the best locksmith to secure your business property in Lakeview, Chicago 60613, 60657? As a business owner, it is critical to protect yourself and your company from all types of loss. A commercial locksmith in Chicago like Omega Locksmith is exactly what you need. Whether it is nighttime or daytime, our business locksmith team is ready to offer security solutions that fit the budget and assist in a manner that fits perfectly into a busy business owner's schedule.
What are the common commercial locksmith services that you respond to?
Master keys for office, business premises or hotel

Warehouse or godown or factory security door or industrial door to be fixed

Retail shop or store in 60613, 60657 that needs more secure lock replacements

Businesses looking to get high-security locks or deadbolt locks installed or a safe opened

Get office key replaced or get missing drawer keys made, get cupboard or storage keys replacements, shop keys replaced or office keys duplicated
For all your 60613, 60657 locksmith needs, we have the right service commercial locksmith technicians. Our expert industrial & commercial key maker will be at your assistance and ensure the safety of your business premises in no time. Call us at 773-277-5625 for a free quote today.
What are the kinds of businesses in Lakeview, Chicago that request commercial locksmith services from you?
Apartment complexes

New building construction projects

Retail stores

Warehouses

Hotels and restaurants

Universities and schools

Hospitals and clinics

Small businesses
What solutions do you offer for upgrading security for commercial businesses?
Access control systems

Master key making

Commercial door installation and repair

High-security lock installation

Panic bar installation

Cabinet Locks and keys
We are sure to find protection within the budget. Plus, you will save a lot of money in the long run and prevent unforeseen losses to your Lakeview, Chicago business. Don't let your security be compromised. Take action now by calling us at (773) 277 5625.
Automotive Locksmith Services in Lakeview, Chicago
As a competent car locksmith serving Lakeview, Chicago and all of its neighborhoods, we know that it can be scary being locked out of your car or truck on an empty parking lot or on a desolate road. We have an array of expert auto locksmiths in Lakeview, Chicago, and our mobile locksmith technicians often arrive at your destination within 30 minutes or less.
One of the common mistakes that you will go through as a car owner is losing your car keys. Ask a reputed Lakeview, Chicago locksmith providing automotive locksmith services to expertly address the situation. Hiring the services of a reputed & certified automotive locksmith ensures your safety. If you are browsing online for "the right locksmith near me", then your search ends here. Our expert Lakeview, Chicago auto and car locksmiths can handle all types of vehicles – cars, trucks, vans and get your car or van or truck doors unlocked, get your car ignition keys made, replace your transponder keys, fix broken car keys or get your car keys or remote duplicate. Don't worry!

What kind of skilled auto locksmith services in Lakeview, Chicago 60613, 60657 do you provide?
If you need to get your car smart keys duplicated or need a new car smart keys anywhere in Lakeview, Chicago, then give us a call. We offer the following services:
Key duplication

Lost car keys or broken keys

Ignition repair

Car lockout service

Car key repair and replacement

Car keys copied

Key fob programming

Smart keys for cars
What kinds of Motorcycle brands do you service?
Have you lost your motorcycle key or scooter keys in 60613, 60657, Lakeview, Chicago? Your motorcycle keys are broken or will not turn? Our 60613, 60657 Lakeview, Chicago motorcycle and scooter locksmith service will rescue you in no time, often within minutes of your call. Your emergency or key troubles are our priority. Our auto locksmiths can cut and copy motorcycle keys for most makes and models:
Harley-Davidson

Yamaha

Honda

Suzuki

Ducati

Kawasaki

BMW
Should I get my car or motorcycle towed to the dealership?
Don't bother asking your dealership for help unless you are willing to spend a hefty amount and get your car towed all the way there. Instead, our low-cost locksmiths will save you time, energy and money.
You don't even have to get your car towed to a dealership for the top-notch service with our car locksmith services in 60613, 60657 Lakeview, Chicago. Our Lakeview, Chicago auto locksmith services team ensure that you get your car or truck or van keys made quickly anywhere in Lakeview, Chicago 60613, 60657. That's why we are always prompt and arrive as soon as possible anywhere in Lakeview, Chicago when you need urgent assistance. We come to you in 60613, 60657 Lakeview, Chicago, or just anywhere in Lakeview, Chicago, within 30 minutes.
Residential Locksmith Services in Lakeview, Chicago
The safety of you and your family is paramount to us! That's why we always provide the best locksmith services for folks who live Lakeview, Chicago, a stone's throw away from 60632 as the crow flies. Omega Locksmith has 10+ years of experience resolving any key and lock issues that homes and residencies in Chicago and other local areas such as Lakeview, Chicago may be facing. Our priority as an expert residential locksmith in Lakeview, Chicago neighborhoods is to keep you safe and ensure the security of your house and all its assets.
We strive to create a safe and secure society in and around Chicagoland, and Lakeview, Chicago is no exception. When houses in and near Lakeview, Chicago require assistance with their home locks, they can obtain fast, knowledgeable assistance from Omega.
What are the house locksmith services that you offer for Lakeview, Chicago residents?
Looking for help with your home lock upgrades or locked yourself out of the house or looking for a reliable & honest locksmith to rekey your residence?
You can rely on Omega Locksmith's professional locksmith service for the whole of 60613, 60657 localities in Lakeview, Chicago. If you are our residential locksmith customer in Lakeview, Chicago 60613, 60657, you would have received any of the following home locksmith services:
House rekeying

Master key making

Eviction assistance

Home lockout assistance

Safe keys and safe repair

Door lock bumping

Deadbolt installation
Your and your family's safety is paramount to us! That's why we don't compromise on the quality and reliability of our home locksmith service in Lakeview, Chicago. As a residential locksmith in Lakeview, Chicago, our priority is to keep you safe and ensure the security of your house and property. We have hundreds of happy and satisfied customers in areas across Chicago, including Lakeview, Chicago 60613, 60657. We are a mobile locksmith and can reach your location in around 30 minutes or fewer thanks to our reliable locksmith van.
You never know when one of your home's locks might malfunction. We offer residential lock and key services in Lakeview, Chicago on a 24-hour basis. You can rely on Omega Locksmith to respond to this emergency. We solve nearly every type of common home lock or key problem. Our low prices are sure to keep you happy. Call us today at (773) 277 5625 for fast and courteous service.
Trust Omega Locksmith to provide you the best service for any 60613, 60657 locksmith services! Call 773-277-5625 today!