Bolingbrook, IL
jose@omegalocksmith.com
Omega Locksmith was founded in 2006 and has since become one of the leading Local Locksmith Companies in Chicago and its neighborhoods. We are a family-owned and full-service locksmith company with a physical locksmith store located at 4346 W. 51st St., Chicago, Illinois 60632.
Omega Locksmith is a certified Lock Company with Locksmith License #191-000821, granted by the State of Illinois. Headed by Jose Mario Hernandez Jr., our skilled locksmiths have helped hundreds of Chicagoans with prompt and affordable lock repair services. We are a 24-hour locksmith, so don't hesitate to contact us at (773) 277 5625 any time, day or night. Our courteous and fast emergency locksmith services team is trained in the latest tools and equipment for locks and keys.
We are a leading emergency locksmith company in Chicago that reduces the stress of being locked out of your home, office, or car. As a mobile locksmith, we can reach you anywhere in Chicago in 30 minutes or less, and we are definitely close to Bolingbrook, IL. The Omega Locksmith mobile locksmith van is just a quick drive to Bolingbrook, IL and our locksmith service areas also cover nearby areas in Cook County and DuPage County.
Bolingbrook, Illinois is a southwest suburb of Chicago in Will and DuPage counties in the U.S. state of Illinois. It is the 17th largest incorporated place in Illinois and the state's 2nd largest village. Bolingbrook borders the communities of Woodridge, Romeoville, Plainfield, Naperville, and Darien. Bolingbrook has a total area of 24.257 square miles, of which 24.05 square miles is land and 0.207 square miles is water.
Interstate 55, locally the Stevenson Expressway, runs through the southern part of the village heading northeast toward Chicago and southwest toward Plainfield and Joliet. Interstate 355, also known as the Veterans Memorial Tollway, runs along the far east side of the village between New Lenox and Addison. Illinois Route 53, locally known as Bolingbrook Drive, runs north–south through the middle of the village.
Other main streets in Bolingbrook include Boughton Road, Lily Cache Lane, Weber Road, Veterans Parkway (formerly Naperville Road), Briarcliff Road, Hassert Boulevard (formerly 111th Street), Rodeo Drive (formerly 119th Street), Schmidt Road, Crossroads Parkway, and Remington Boulevard.
source:https://en.wikipedia.org/wiki/Bolingbrook,_Illinois
City link:http://www.city-data.com/city/Bolingbrook-Illinois.html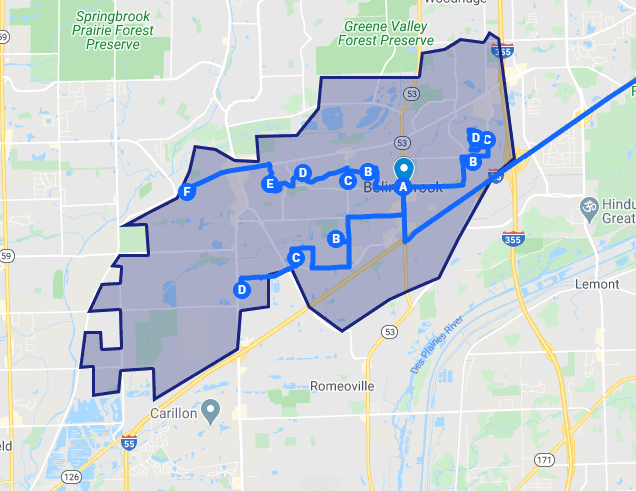 Frequently Asked Questions
Are you a licensed locksmith serving Bolingbrook, Chicago?
Yes. Of course! We are fully licensed to serve Bolingbrook, Chicago in the State of Illinois and our Locksmith License Number is #191-000821.
Do you have a locksmith shop I can visit from Bolingbrook, Chicago?
Yes, we do. Our physical locksmith store is located at 4346 West 51st Street, Chicago IL 60632 close to Chicago suburbs like Bolingbrook, Chicago. For directions, call (773) 277 5625.
Can your auto locksmith help me if I'm locked out of my car?
Getting locked out of your own car in Bolingbrook, Chicago at odd hours is a stressful situation no one wants to experience. A mobile auto locksmith company like Omega Locksmith will save the day by driving to Bolingbrook, Chicago and getting you back in your car. Our locksmiths are equipped with the latest tools and years of training and experience to open car doors without damaging them. We can also cut and duplicate keys onsite for you to prevent such issues from occurring again.
What should I do if I get locked out of my home/office in Bolingbrook, Chicago?
Most people do not usually think of lockout situations until they are in the middle of one. Now, you find yourself staring through the window wondering how you left your keys in the room after walking out the door. Don't panic. Stay calm and call a locksmith company like Omega Locksmith. We are mobile and respond to emergency calls by traveling to businesses and homes in Bolingbrook, Chicago. We are licensed and trained to provide lockout solutions and carry all the necessary equipment.
What emergency scenarios is your team trained to resolve?
Our locksmiths are trained to respond to emergency situations like lockouts, key duplication, key creation, or door unlocking. We have found that many people in Chicago suburbs like Bolingbrook, Chicago get locked out of the home without backup keys or find themselves locked out of their cars in inconvenient places. Our crew of technicians and locksmith professionals can quickly get you back in your office, car, or home.
Commercial Locksmith Services in Bolingbrook, IL
Do you operate a business or need to hire the best locksmith to secure your business property in Bolingbrook, IL 60439, 60440, 60490? As a business owner, it is critical to protect yourself and your company from all types of loss. A commercial locksmith in Chicago like Omega Locksmith is exactly what you need. Whether it is nighttime or daytime, our business locksmith team is ready to offer security solutions that fit the budget and assist in a manner that fits perfectly into a busy business owner's schedule.
What are the common commercial locksmith services that you respond to?
Master keys for office, business premises or hotel

Warehouse or godown or factory security door or industrial door to be fixed

Retail shop or store in 60439, 60440, 60490 that needs more secure lock replacements

Businesses looking to get high-security locks or deadbolt locks installed or a safe opened

Get office key replaced or get missing drawer keys made, get cupboard or storage keys replacements, shop keys replaced or office keys duplicated
For all your 60439, 60440, 60490 locksmith needs, we have the right service commercial locksmith technicians. Our expert industrial & commercial key maker will be at your assistance and ensure the safety of your business premises in no time. Call us at 773-277-5625 for a free quote today.
What are the kinds of businesses in Bolingbrook, IL that request commercial locksmith services from you?
Apartment complexes

New building construction projects

Retail stores

Warehouses

Hotels and restaurants

Universities and schools

Hospitals and clinics

Small businesses
What solutions do you offer for upgrading security for commercial businesses?
Access control systems

Master key making

Commercial door installation and repair

High-security lock installation

Panic bar installation

Cabinet Locks and keys
We are sure to find protection within the budget. Plus, you will save a lot of money in the long run and prevent unforeseen losses to your Bolingbrook, IL business. Don't let your security be compromised. Take action now by calling us at (773) 277 5625.
Automotive Locksmith Services in Bolingbrook, IL
As a competent car locksmith serving Bolingbrook, IL and all of its neighborhoods, we know that it can be scary being locked out of your car or truck on an empty parking lot or on a desolate road. We have an array of expert auto locksmiths in Bolingbrook, IL, and our mobile locksmith technicians often arrive at your destination within 30 minutes or less.
One of the common mistakes that you will go through as a car owner is losing your car keys. Ask a reputed Bolingbrook, IL locksmith providing automotive locksmith services to expertly address the situation. Hiring the services of a reputed & certified automotive locksmith ensures your safety. If you are browsing online for "the right locksmith near me", then your search ends here. Our expert Bolingbrook, IL auto and car locksmiths can handle all types of vehicles – cars, trucks, vans and get your car or van or truck doors unlocked, get your car ignition keys made, replace your transponder keys, fix broken car keys or get your car keys or remote duplicate. Don't worry!

What kind of skilled auto locksmith services in Bolingbrook, IL 60439, 60440, 60490 do you provide?
If you need to get your car smart keys duplicated or need a new car smart keys anywhere in Bolingbrook, IL, then give us a call. We offer the following services:
Key duplication

Lost car keys or broken keys

Ignition repair

Car lockout service

Car key repair and replacement

Car keys copied

Key fob programming

Smart keys for cars
What kinds of Motorcycle brands do you service?
Have you lost your motorcycle key or scooter keys in 60439, 60440, 60490, Bolingbrook, IL? Your motorcycle keys are broken or will not turn? Our 60439, 60440, 60490 Bolingbrook, IL motorcycle and scooter locksmith service will rescue you in no time, often within minutes of your call. Your emergency or key troubles are our priority. Our auto locksmiths can cut and copy motorcycle keys for most makes and models:
Harley-Davidson

Yamaha

Honda

Suzuki

Ducati

Kawasaki

BMW
Should I get my car or motorcycle towed to the dealership?
Don't bother asking your dealership for help unless you are willing to spend a hefty amount and get your car towed all the way there. Instead, our low-cost locksmiths will save you time, energy and money.
You don't even have to get your car towed to a dealership for the top-notch service with our car locksmith services in 60439, 60440, 60490 Bolingbrook, IL. Our Bolingbrook, IL auto locksmith services team ensure that you get your car or truck or van keys made quickly anywhere in Bolingbrook, IL 60439, 60440, 60490. That's why we are always prompt and arrive as soon as possible anywhere in Bolingbrook, IL when you need urgent assistance. We come to you in 60439, 60440, 60490 Bolingbrook, IL, or just anywhere in Bolingbrook, IL, within 30 minutes.
Residential Locksmith Services in Bolingbrook, IL
The safety of you and your family is paramount to us! That's why we always provide the best locksmith services for folks who live Bolingbrook, IL, a stone's throw away from 60632 as the crow flies. Omega Locksmith has 10+ years of experience resolving any key and lock issues that homes and residencies in Chicago and other local areas such as Bolingbrook, IL may be facing. Our priority as an expert residential locksmith in Bolingbrook, IL neighborhoods is to keep you safe and ensure the security of your house and all its assets.
We strive to create a safe and secure society in and around Chicagoland, and Bolingbrook, IL is no exception. When houses in and near Bolingbrook, IL require assistance with their home locks, they can obtain fast, knowledgeable assistance from Omega.
What are the house locksmith services that you offer for Bolingbrook, IL residents?
Looking for help with your home lock upgrades or locked yourself out of the house or looking for a reliable & honest locksmith to rekey your residence?
You can rely on Omega Locksmith's professional locksmith service for the whole of 60439, 60440, 60490 localities in Bolingbrook, IL. If you are our residential locksmith customer in Bolingbrook, IL 60439, 60440, 60490, you would have received any of the following home locksmith services:
House rekeying

Master key making

Eviction assistance

Home lockout assistance

Safe keys and safe repair

Door lock bumping

Deadbolt installation
Your and your family's safety is paramount to us! That's why we don't compromise on the quality and reliability of our home locksmith service in Bolingbrook, IL. As a residential locksmith in Bolingbrook, IL, our priority is to keep you safe and ensure the security of your house and property. We have hundreds of happy and satisfied customers in areas across Chicago, including Bolingbrook, IL 60439, 60440, 60490. We are a mobile locksmith and can reach your location in around 30 minutes or fewer thanks to our reliable locksmith van.
You never know when one of your home's locks might malfunction. We offer residential lock and key services in Bolingbrook, IL on a 24-hour basis. You can rely on Omega Locksmith to respond to this emergency. We solve nearly every type of common home lock or key problem. Our low prices are sure to keep you happy. Call us today at (773) 277 5625 for fast and courteous service.
Trust Omega Locksmith to provide you the best service for any 60439, 60440, 60490 locksmith services! Call 773-277-5625 today!